An exciting Sustainable Fashion Show took place at Salisbury Arts Centre last week, punctuated with high energy modern dance routines performed by the group, Panthera. The event, which showcased the sewing and design talents of young people, took place as part of the UK Sustainable Fashion Week.
Local children and teenagers had taken part in summer workshops at The Salisbury Museum, where they'd learned a range of sustainable skills, including natural dying, fun hacks to upcycle unwanted clothes and textiles into stunning "new" outfits, and how to make "trashion" items from recycled materials. The workshops were funded by The Esmée Fairbairn Collections Fund and delivered by the Museums Association for Fashioning Our World.
Katy England, the Fashioning Our World Project Manager at Salisbury Museum said, "This event is important because of the all the young people involved. They are the future. We have been trying to use our museum collections of the past to inspire them to think differently.
"There are too many clothes and the pollution from the fashion industry is terrible. In this country we don't see the problem unfortunately, as it's in other parts of the world: clothes piling up on beaches in Africa and poor working conditions for the makers. It's easy for us to think that it's just one cheap t-shirt, but if everyone's doing that then it's having a devastating effect on our planet."
Amber, a young person who took part in the Sustainable Fashion Show, agreed. She said, "I want to look after the world for generations to come. A lot of clothes are being wasted and the people making them are working in poor conditions."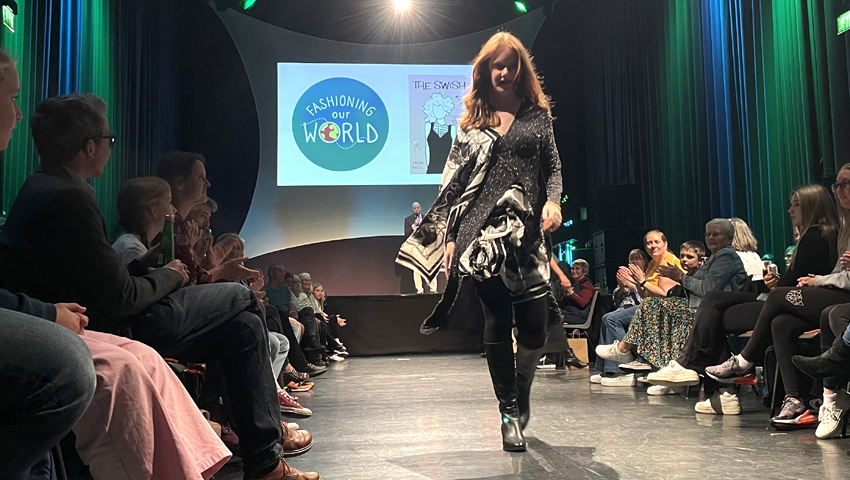 The Sustainable Fashion Show presented the audience with a catwalk crammed full of upcycled, recycled and "trashion" offerings.
Albie, a young person who watched the show, said, "I really enjoyed the fashion. It was so ingenious. They were using all sorts of fabrics, from curtains to sheets to even just random pieces of cloth and tin cans. This sort of fashion gives old things a new home and it's so creative. With normal fashion there are some very tight boundaries, but with this kind of fashion, as we've just seen, you can really let your imagination run away with you."
The Salisbury show took place as part of UK Sustainable Fashion Week. Joe Mountain from Future Fashion Fair in Manchester says fashion needs to change in two key areas. "The first is that we need to significantly reduce the amount that we produce and consume, and the second is that the models in which we produce and consume need to be adapted to a circular system. Sustainable fashion has developed a stigma for being inaccessible and unaffordable. But fundamentally to have a truly sustainable world where resources are protected, rivers are clean and the climate is stable we need to reduce the amount we produce. One way to solve this problem is by going back to more traditional ways of valuing clothes.
"Small-scale crafters and upcyclers play a vital role in offering new perspectives on fashion. Above all, we have to change the narrative around second-hand fashion. The benefit of buying second-hand is the ability to look different while still remaining, what many fast fashion buyers want, on-trend. Understanding that ability to still remain relevant, even though it's considered second-hand, could be a key driver to helping consumers understand the differences."
Kamya Choudhary, India Policy Fellow at the London School of Economics [https://www.lse.ac.uk/granthaminstitute/news/remodelling-fast-fashion-understanding-the-need-to-accelerate-sustainability-in-the-fashion-industry-and-how-the-uk-can-respond/] is also concerned. Writing on an LSE blog post, she said, "The global fashion industry creates significant environmental harm. It produces greenhouse gas emissions equivalent to 1.2 billion tonnes of CO2 per year – more than shipping and aviation combined.
"The manufacture of garments from cotton can lead to over-abstraction of scarce water supplies that are being further threatened by drought associated with climate change.
"And then there's the pollution and waste. Fashion and textile supply chains have been identified as the third most polluting industry, after food and construction.
"Fashion is also a social justice issue. While company headquarters and profits are often disproportionately concentrated in developed countries, it is developing countries that are forced to manage the industrial-scale repercussions of mass manufacturing. This includes negative impacts like labour exploitation in the form of job precarity, low wages, labour disposability, unsafe working environments and even wage theft."
At the Salisbury Fashion Show the focus was on upcycling, recycling and "trashion", so natural future fabrics were not on the catwalk – but fabrics such as leather and wool from regeneratively farmed animals are likely to play an important role in the future of global fashion, along with field crops such as linen, cotton and hemp.
Katy England said, "There are new fabrics coming from things like mushrooms and seaweed and these are all really exciting. In terms of leather, we need to think about not just the products themselves, but how they're being produced. The leather industry can be incredibly polluting so we need to be thinking about ways that we can address that. Obviously we don't want to be wasting that material, but we don't want to be damaging the environment when we're processing it either."